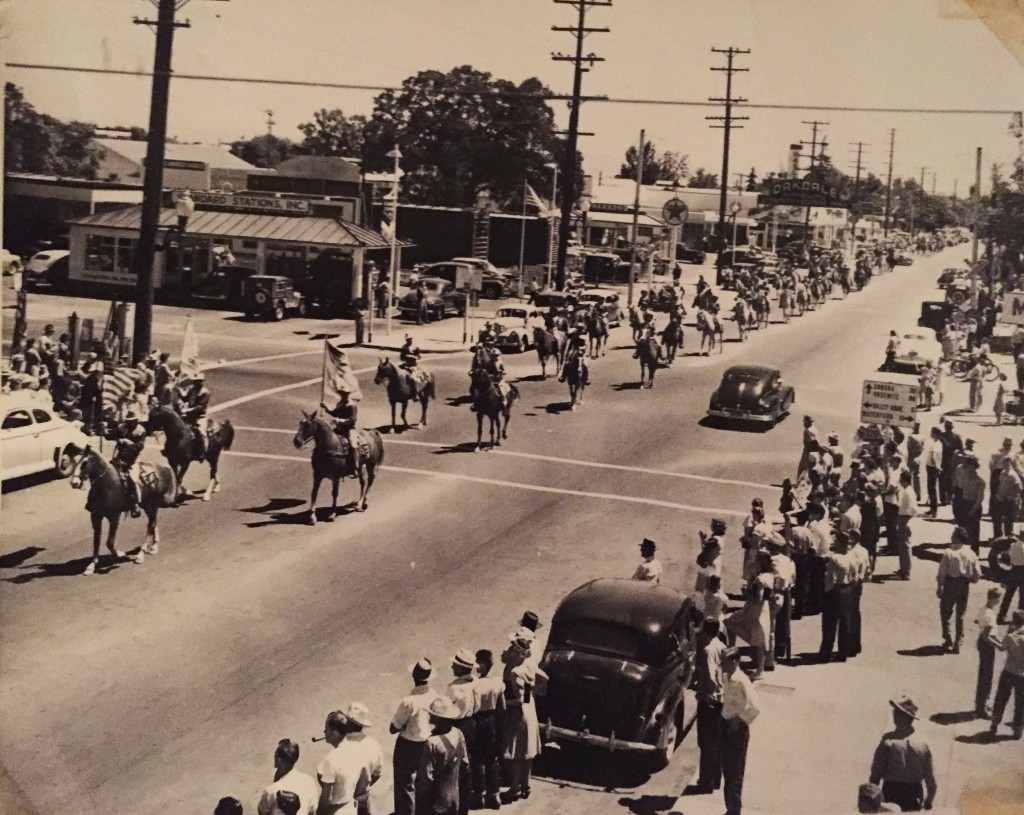 Our Beginnings
In 1945, Oakdale was known as the "Clover Capital of the World" and held deep roots in ranching and a tradition of breeding horses. It was in that same year that a group of local horseman that started the Oakdale Saddle Club. In that first year, the Oakdale Saddle Club grew to 120 members.
The Saddle Club purchased 20 acres from O.E Salyer on the east side of Oakdale to build their grounds.  The group planned to build stables, a ½ mile race track, bleachers, chutes and a rodeo arena to be within the oval of the track.
In February 1946, the club set the dates for their first annual Clover Roundup.  The event was held May 19, 1946.  The roundup consisted of 11 "amateur" events.  These events included; Calf Roping, Bull Riding, Half Mile Race, Saddle Broncs, Trick Horses, Silver Equipment, Stock Horse Class, Bareback Broncs, Fancy Roping, Team Roping and Wild Cow Milking.  The cost of each class was $2.50 with first prize varying from $10-$50.  At the time, Oakdale's population was 3,435, yet over 4,500 attended this inaugural event. The top money earner of the day was Wells Woolstehulm.
The Clover Round-up wasn't the only rodeo hosted at the Oakdale Saddle Club grounds in the 40's.  In 1948, John Bowman and John Markham promoted a professional event called the Oakdale Stampede.  John Bowman went on to be a three-time World Champion and was inducted into the Pro Rodeo Hall of Fame in 2013.  The Oakdale Saddle Club awards a perpetual trophy to each year's Oakdale Rodeo All-Around Cowboy in honor of John Bowman.
In 1954, the Oakdale Saddle Club held its first professional rodeo, keeping the name the Oakdale Clover Round-Up.  By, 1957 the name of the rodeo officially changed to the Oakdale Rodeo.
Through the course of 8 decades the Oakdale Saddle Club has evolved to fit its membership needs.  The club has grown to over 400 members.  Many families have been in the club for several generations and we hope to grow our community outreach while preserving our history for future generations. Our primary goal is to celebrate our western heritage and to create an family themed event to be shared with our community and beyond..  Thank you for visiting our webpage.  We hope to see you at the rodeo!
(Rodeo history compiled from the notes of Jackie Connor)
ADDITIONAL HISTORY INFORMATION: